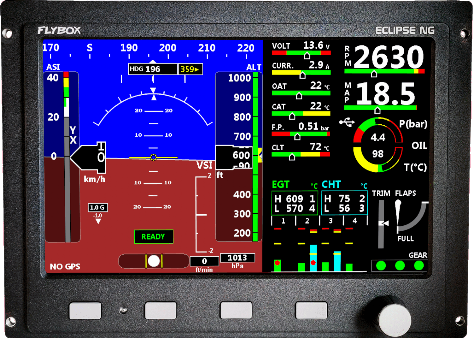 The integrated instruments

"ECLIPSE NG" features a very

sunlight readable display that shows the engine and flight data organized in one or more pages. Many features make ECLIPSE NG unique in the avionics market, such as the intuitive graphical data representation, the vocal alarms, the 3 color cameras video inputs and the datalogger with integrated graphical viewer.
Two different versions meet the most demanding requirements, allowing you to configure your instrument panel to the best quality price ratio available today.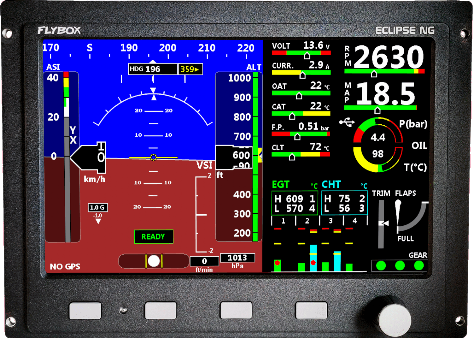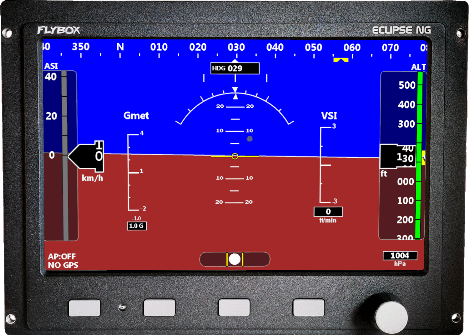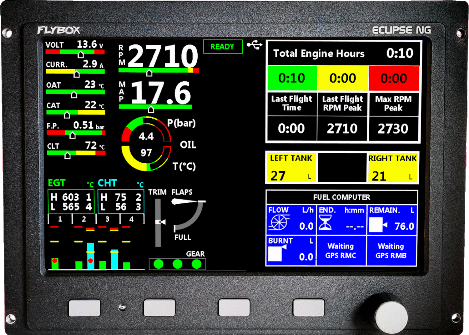 Air and attidude data

- Attitude indicator
- Slip indicator
- Compass
- Indicated Air Speed
- Altimeter
- Vertical speed indicator
- GPS ground speed
- G-Meter
Engine
- RPM
- MAP
- Oil pressure
- Oil temperature
- Up to 6 EGT
- Up to 6 CHT
- Coolant (For coolant temperature reading)
- OAT
- CAT
- Fuel Pressure
- Fuel Computer with Instantaneous Fuel Consumption, Endurance, Fuel Remaining, Fuel Used Since Last Flight, Range and Reserve to Next Point (if connected to a GPS)
- Up to 3 fuel level gauges with calibration
- Supply Voltage
- Current
- Hour meter with separate counters for each speed (green arc, yellow arc, red arc)
- Local Time from GPS
- Automatic Flight Timer
Moving parts indication
- Trim position (Elevator)
- Flap position
- Gear up/down
2 axis autopilot
- Maintain set heading and altitude
- GPS navigation (from wire reading RMB)
- WIFI navigation (receiving a flight plan from App, will require Flybox Connect kit)
Others
- Datalogger with 1 second sampling over 100h
- Peak memory for each engine parameter reading
- 3 Camera inputs
- Voice alarm output
- Digital alarm outputs (to connect LED or Buzzer)
- Customisable thresholds, units and alarms for each instrument displayed
- 2 CAN BUS
- 2 RS232 serial port
- 1 USB port
- Altiture encoder for serial Transponder
Possibility of connecting optional second screen, (Eclipse NG MFD)
Eclipse NG MFD is the slave instrument that allows the viewing of all the available data from the main ECLIPSE NG master unit.
It is connected to the main instrument with only 2 wires.
The
MFD
can be used only in two screen glass cockpit configuration.
1-
IFIS
page (Integrated Flight Information System)
The IFIS page features

artificial horizon and flight data on the left side, while on the right side you have a shot on the the essential engine parameters.
2-
P
FD
page (Primary Flight Display)
The PFD page has a full page attitude indicator that enhances all the flight data in a single screen.
3-
EIS
page (Engine information System)
The Eis page is composed by all the engine parameters, the hour meters section and the fuel management section.
Technical specifications:

Dimensions: 188 x 136 x 46 mm


Weight: 900 g


Operating temperature range: -20~+70 °C


Supply voltage: 10~30 Vdc


Supply current: 0.5 A


Electrical connections using D-Sub connectors


Software upgradable by means of USB pen drive