See included and optional accessories
in the Components tab at the bottom
In addition to the standard functions of the previous version, with Oblò2 you'll get:
- new colours
- new graphics
-
the ability to receive flight plans from tablets and iPads via the optional
Flybox Connect
Morehover, if you already own a standard Oblò, you can
upgrade
it to Oblò2 by sending it to us.
For more details contact us here
.
Oblò
is a compact, lightweight, easy to install instrument that fits into a standard 3 1/8" (80mm) cutout.
With its round display it integrates:
- Digital attitude indicator
- Gyro Compass featuring magnetic heading and GPS tracking
- Vertical speed indicator
- Measure and units are configurable.
Unlike other products similar in size, the Oblò does not display the speed and altitude taken from a GPS system, but calculates them by itself.
Gps signal can be taken from the Flybox optional antenna (cod.
810010
) or any of the Gps device with NMEA output available on the market.
The airspeed and altitude indications, based on pressure sensors, do not suffer the typical delays and errors of GPS-based indications.
Oblò displays true aircraft attitude thanks to the integrated AHRS inertial platform, equipped with solid-state micromachined sensors (gyros, accelerometers and magnetometers) and an adaptive algorithm.
Using a state of art custom TFT LCD, the display visibility results to be at the best standards also in direct sunlight with an adjustable brightness.
The calibration performed for each instrument guarantees for the altimeter a maximum error of 0.5 millibar (4.6meters) in a temperature range of -20 ~ +70°C and an altitude range of
-1000 ~ +25,000 feet and for the airspeed a maximum error of 3 km/h at low speed (below 30km/h), which decreases as the speed increases.
Oblò provides the following three screens that is possible to select with a fast turn or the knob.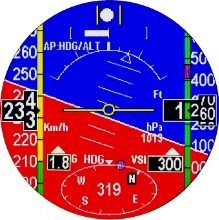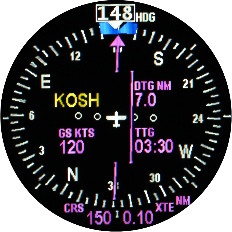 (horizontal situation indicator)
Hsi screen, when connected with a GPS via Nmea output, provides current position, direction, distance when a GoTo or a Flight Plan is activated; When not connected with GPS, it is a gyrodirectional.
Main screen - Attitude indicator
Easily readable menu cells, with auto-zoom on the selected item allowing a
ccess to the desired informations in a easy and intuitive way and p
arameters settings.
This picture shows the reading of the G-meter peak memory.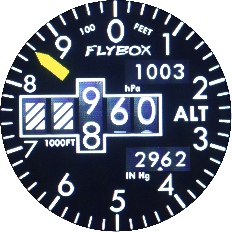 With the new improved feature Oblò becomes a real drum altimeter that allows to set the reference pressure in the QNH boxes in hPa as well as in Hg.
Attitude indicator




Airspeed tape




Altitude tape




Heading tape




Vertical Speed Indicator




G-meter with peak memory




Slip indicator




Turn rate indicator




Target bugs may be set for heading and altitude



GPS receiver (optional)

Intercom signal out




Software upgradable by means of USB port
Technical specifications:

Dimensions: 83 x 83 x 61 mm




Weight: 300 g




Operating temperature range: -20 ~ +70°C




Power supply: 10~20 Vdc, 0.26 A




Connections via DSUB 15 pin connector




Brightness: 1200NITS, adjustable




USB port for software updates




RS232 and CAN communication ports




Solid-state sensors
Oblò or Oblò2

instrument




Printed user manual (ENG version)

DB15 connector

USB cable

M4x10mm screws


120 ohm resistor

Microfibre cloth

Packing list
- Cod.
801020
A/P key (required to add the Autopilot functions to a standard Oblò Cod. 801000
and to Oblò2 Cod. 801002
)

For side by side aircraft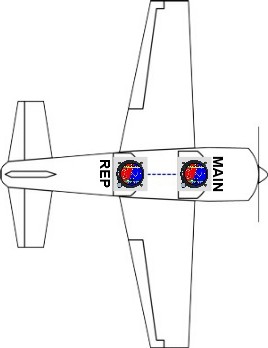 The Oblò Repeater is the slave instrument for who wants to have always an eye on the attitude also from the backseat, it features the same three screens of the main unit. Oblò Repeater must be connected to a main Oblò to allow the viewing of all the flight and gps data. The settings are indipendent between the two instruments (it is possible to set a different unit of measure)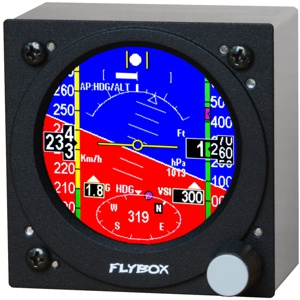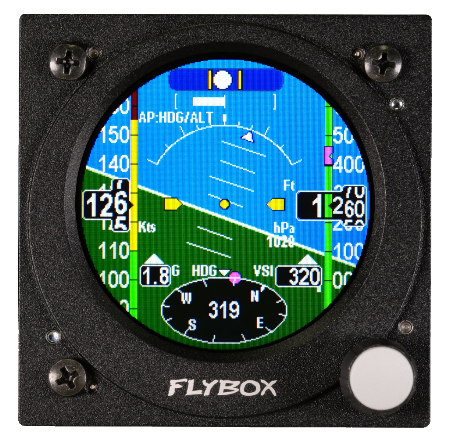 Add a software key cod.
801020
to an existing Oblò standard or buy the ready Oblò A/P version cod.
801010
to have the complete functionalities