PR1-P Constant Speed Propeller Regulator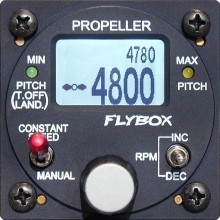 The PR1-P, controls and keeps the engine speed constant by varying the propeller pitch. Operation is very simple: you set the desired engine speed and the PR1-P will do all the work, displaying the target speed and the actual speed measured by the motor. It is completely adaptable to the characteristics of the various propellers thanks to settable parameters that allow to obtain the maximum adjustment precision.
Thanks to its patented hardware and software, the PR1-P is able to maintain the target speed with an accuracy of +/- 20 RPM, just like a propeller with hydraulic regulator.
PR1-P and PR2-P are the only regulators that can be used on very fast electric propellers (propellers with travel time from fine to coarse of 2~3 seconds).
RPM setting using the knob or the INC/DEC switch




Min and max pitch LED indicators




Propeller test before take-off




Hour-meter with the effective working time of the propeller electric motor




Possibility of connecting an external switch to adjust the pitch from the cloche




Possibility of connecting an external potentiometer or Flybox lever




LCD with backlight and coated glass




Safety switch to exclude electronic control in case of failure



Technical specifications:

Graphic LCD with backlight and coated glass, dimensions 29x18mm


Standard mounting 2 1/4" (57mm)


Anodized aluminium case


Dimensions: 60 x 60 x 52.6 mm


Weight: 190 g


Operational temperature range: -10 ~ +70°C


Supply voltage: 11 ~ 20 V=


Supply current: 100mA


Maximum motor current: 7 A


RPM input voltage range: 10~100 V


Measurable RPM range: 1000 to 8000 RPM


RPM Resolution: 10 RPM