PR2-P Constant Speed Propeller Regulator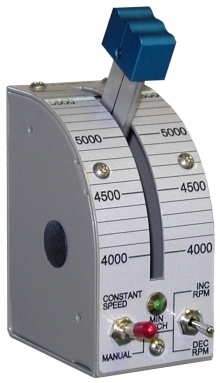 The PR2-P propeller regulator control and keep constant the engine speed by varying the propeller pitch. It is a completely new product in the ultralight aviation because is integrated in an aeronautic-type lever, providing a more easy and intuitive action by the pilot. It can be installed on the instrument panel or in the central console. It is completely adaptable to the characteristics of various propellers thanks to settable parameters that permits to obtain the maximum regulation accuracy.

Thanks to its patented hardware and software, PR2-P can mantain the target RPM with a precision of +/- 20 RPM, just like a propeller with hydraulic governor.

PR2-P and PR1-P are the only regulators that can be used on very fast propellers (propellers with regulation time from min to max pitch in 2~3 seconds).
Main features:

RPM set using the lever


Min pitch LED indicator


Safety switch to exclude electronic control in case of failure
Technical specifications:

Aluminium case


Dimensions: 115 x 41 x 78 mm


Supply voltage: 11 ~ 15 V=


Supply current: 70 mA


Maximum motor current: 7 A


RPM input for ROTAX 912/914 engines


Operational temperature range: -20 ~ +70°C