A new reference point in the servomotor market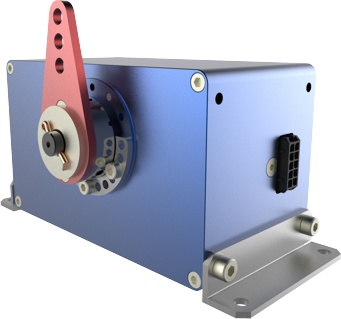 Completly disconnected when not engaged, no residual torque at all.
Equipped with a powerful brushless motor.
Fully CNC machined and anodized alloy case.




No moving plastic parts

.



Custom made stainless steel gears.
Compact and lightweight, at the same time tough and reliable.
All in 750 g, almost the half of the weight compared to the other servomotors available on the experimental market.

Safe and reliable
The Flybox FX75 servomotor has
a reliable disengaging system:
s
i
tuations like severe turbolence or something other kind of anomaly will not be a problem, because the pilot can take in any case the immediate control of the plane.
When the autopilot isn't engaged, the internal gears are completely disconnected
, then at difference as some servomotors the pilot will not feel no residual torque at the command stick
, giving a confortable flight
.
In case of mechanical failure, the gear train is engineered to be reversible:
the pilot can overtop the power
of the brushless motor, it provides to the servomotor a further safety level.
Each servomotor FX75 has an internal fast microcontroller that
continuosly control monitoring throught i
nternal sensors the general functions, also checking the current and the temperature of the brushless motor.
It therefore ensure an always perfect operation with no risks.
In case it detects any situation out of the normal working condition, it will be automatically disengaged immediately informing the pilot.
The output torque is electronically adjustable, and in case of forced action from the pilot on the command stick, the disengage will be without the breaking of a shear pin (unlike other servomotors on the market that use that mechanical safety system that after the break, needs a remediation action to work again).
The communication between servomotors and the ACU (autopilot control unit) is fully digital because it uses the CAN-BUS trasmission data interface
.
In this way also the electrical installation is simplyfied, in fact the servomotors needs only two wires for the power supply and other two for the data bus.
FX75 is fully customizable changing
the various
parameters though the menus of the connected instrument (Oblò or Eclipse) at last it has an upgradable
firmware.
- The servomotor comes with an anti rotation flange, that can be oriented in 24 different positions.
His function is to limit the direction of the working zone in function of the type of installation.
- The two mounting brackets fixed in one of the four possible positions, gives a better installation flexibility of the servomotor.
Dimensions (overall): 113 x 97 x h65 mm




Weight: 750g




Maximum torque: 7.5 Nm




Electronically adjustable torque




Max current consumption: 3A.



The units are sold for experimental aircraft only and are not certified devices.