Vigilus HELI
(All engine models)
See optionals from Hardware tab below.
VIGILUS is the instrument that allows, combined with the remote module, a complete management of the engine parameters and on board fuel.
It can be installed in a 3-1/8" (80mm) standard hole.
All the available data are divided into more pages, with graphical interface designed for maximum readability.
It is customizable for many types of engines and fully configurable in terms of alarms and audio alerts, that are activated as soon as a parameter exceeds the minimum or maximum limit set.
Vigilus is structured to have five different screens and through the functions menu is possible to visualize a graphic datalogger, as shown below.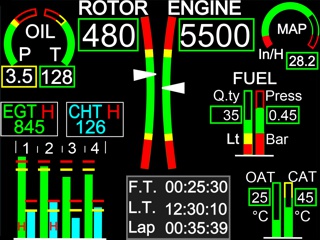 Engine and Rotor informations
:
Rotor RPM, Engine RPM, MAP, Oil Pressure, Oil Temperature, Water Temperature, EGT, CHT, Fuel Pressure, Fuel Level, OAT, CAT, Flight Time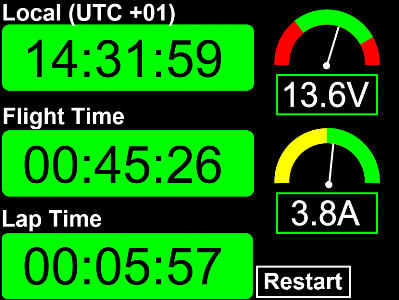 Flight Timer: Local Time (UTC corrected), Flight Time, Chronometer, Volt, Ampere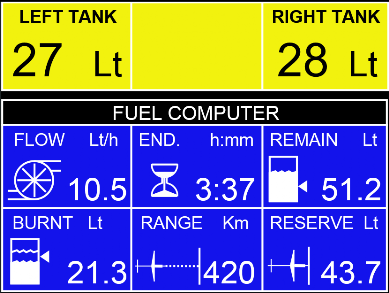 Fuel management
:
3 capacitive or resistive televel input, optional Fuel Computer (will require a software key) with Flow Meter, Endurance, Remaining, Burmed, Range and Q.ty to destination (require GPS connection)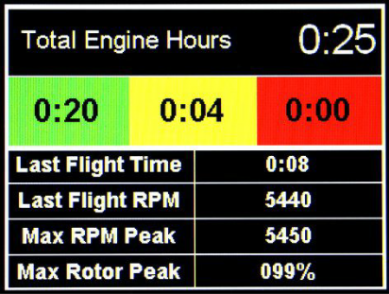 Hour meters
: Total accumulated time by the engine, time run in green-yellow-red zone, last flight time, max engine peak reached in the last flight, max peak reached ever by the engine,
max peak reached ever by the Rotor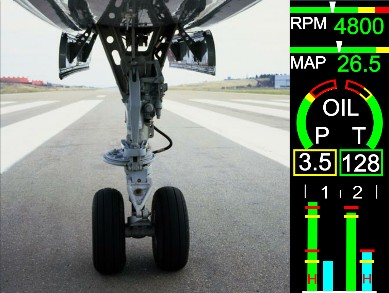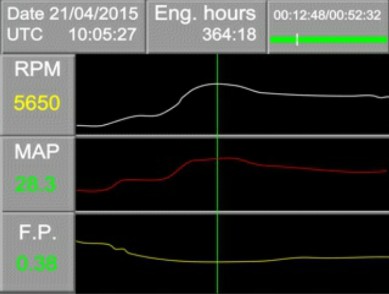 Datalogger: a 200 hours capable memory stores all the informations provided by Vigilus divided for each flight. Data are easy to scroll and analyze with a graphic viewer and download with a usb key

Vigilus is available for:
- Engines with carburator.
- Rotax Engines with injection.
Engine RPM

MAP with integrated sensor

Oil pressure




Oil temperature




6 CHT inputs




6 EGT inputs




Fuel pressure




OAT (Outside Air Temperature)

CAT (Carburetor/AirBox Air Temperature)

Voltmeter




Amperometer

Hour-meter, divided also by time in green, yellow and red zones




Peak RPM memories (last flight RPM peak and max RPM ever)




Flight Chronometer

Local Time-UTC Time (GPS connection required)

3 Composite video input (with the optional Video Grabber cod. 653000)

2 inputs for remote switches
FUEL MANAGEMENT FUNCTIONS:
Fuel computer (fuel flow, endurance, remaining fuel, burned fuel, range and reserve at destination). It's possible to activate 3 alarms for the remaining fuel, time to empty and for balancing tanks.



When a measure drops below its setpoint the alarm is activated on both display and/or audio out tone or vocal alert.
The Fuel Computer functions will require the optional Fuel Computer Activation Key cod. 651055.
3 fuel level sensor inputs with calibration for capacitive and resistive senders



200 hours Data Logger with integrated Graphic Data Viewer and possibility to export data




Software upgradable by means of USB pen drive
Engine alarms are activated when the relative measurement is out of range, they can be both displayed and on the audio out tone or voice alert message.
Technical specifications:
Dimensions: 86x86x22 mm (Vigilus)

135x79x20 mm (Remote Module)

Operating temperature range: -20~+70 °C

Supply voltage: 12~30 Vdc

3.5" TFT color LCD screen.

Display brightness: 1000nits, adjustable.




Standard 3 1/8" (80mm) panel mount




Audio LineOut for intercom




2 CAN Bus communication interfaces




GPS input: standard RS-232, data format: NMEA-0183, sentences required: $GPRMC and $GPRMB
1 USB port




Internal storage for 200 hours of datalogger