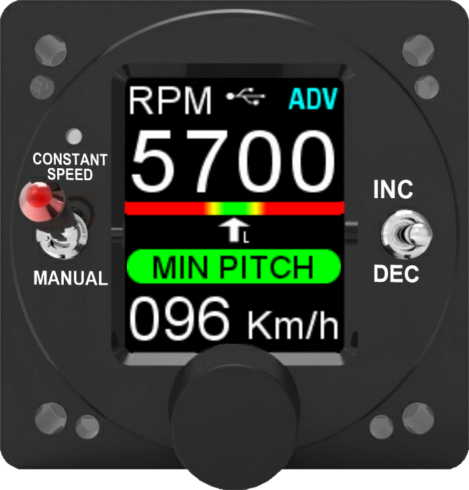 We are looking for installers for this instrument, contact us if you are interested.
APR1
is the first automatic version of the propeller controller that allows you to turn your aircraft's powertrain into a
Single Lever Engine.
You can forget to set the RPM for every flight phase, just move the throttle, and APR1 does all the job.
APR1 is available in 4 versions (B-LC - Base Low Current; B-HC - Base High Current; M-LC - Map Low Current; M-HC - Map High Current) to universally adapt to all engines including the Rotax iS series and all propeller types on the market.
The APR1 instrument family combines
quality
with
safety
, as it features a highly visible and sunlight-readable colour display, a powerful 32-bit microcontroller and state-of-the-art solid-state sensors to ensure reliability and accuracy over time. A built-in sensor automatically adjusts the brightness of the display. The output current has been increased to 20 amps and a short-circuit protection system
prevents damage
to the output when in automatic mode, making this device safer than the ones on the market today.
The 3 operating modes, allow the pilot to make the most of the instrument, as required.
CSPD: Constant speed mode, available in all 4 APR1 models; ADV: Advance mode, available in all 4 APR1 models; ADV+ :Advance Plus mode, available only in the - M - versions.
M - versions embed a MAP sensor, thanks to which, the algorithm prevents the pilot from letting the engine exceed the torque defined by the manufacturer.
The instrument must be set up according to the type of aircraft, engine and propeller, which is why only
authorised installers
may proceed with installation.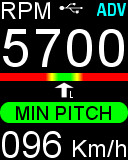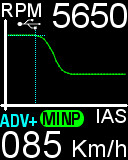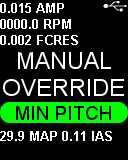 Main features
Included gauges:
1 Airspeed sensor

1 MAP sensor (M version only)

Light sensor
Interfaces:
Knob with pushbutton
Auto/Manu switch
Inc/Dec switch
1 Digital remote control input
1 Analog remote control input
3 CAN bus
2 RS232 serial port

USB 2.0 port
Manufacturing:
Rugged case milled from solid aluminium
Powder-painted
100% manufactured and tested with automatic processes
Technical specifications:
Color graphic LCD with 1000 nits backlight.



Standard mounting 2-1/4", 57 mm.

Powder painted aluminium case.

Dimensions: 60x60x60mm
Weight: 235g.
Supply voltage: 10 ~ 30 V=.

Communication through 3 CAN bus.

USB port: for USB 2.0.

APR1 instrument

Printed user manual (ENG version)

All required Molex connectors

Pins

M4x10mm screws

120 ohm resistor

Packing list
Cod.

604010

USB extender Cable 0.5 Mt