RT1- Multifunction RPM / TIMER
RT1 is a simple to use multifunction digital tachometer; the wide four-digit LCD display show the exact RPM value and with the three LEDs you can see at a glance the rotation range of the engine (equivalents to the green, yellow and red arcs of an analog tachometer).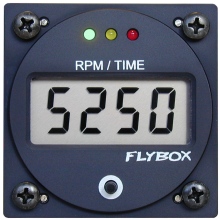 -
Cod.
301000 (Rotax 503/582)
-
Cod.
304000
(Simonini Victor 1-2)
-
Cod.
302000
(Rotax 912/914)
-
Cod.
303000
(Jabiru 4-6 cyl.)
See optionals from
Components
tab below.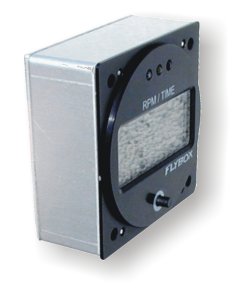 Technical specifications:

Four-digit LCD display


Anodized aluminium case


Standard mounting 2" ¼ (57mm)


Depth: 40.5mm- Weight: 103 g


Input voltage: 10 ~ 30 V=


Current consumption: 40 mA


Measurable RPM range: 500 to 8000 RPM


Resolution: 10 giri/min


Accuracy: 0.02%


Operating temperature range: -20~+70 °C

Main features:
The automatic flight timer (measure up to 9h59min) can recognize the takeoff; the timer can be displayed and resetted during or after the flight.When the flight is ended seven different informations become available:

Last flight timer


Max RPM reached by the engine in the last flight


Total accumulated engine time


Total accumulated time in "green" zone


Total accumulated time in "yellow" zone


Total accumulated time in "red" zone


Max RPM reached by the engine during whole life

When installing on a used engine is possible to preset a value in the total accumulated engine time.
Technical specifications:
Standard mounting 2" ¼ (57mm)

Depth: 40.5mm- Weight: 103 g

Input voltage: 10 ~ 30 V=

Current consumption: 40 mA

Measurable RPM range: 500 to 8000 RPM

Operating temperature range: -20~+70 °C